ZBooks
ZBooks is the online application for completing record books. This option may make it easier for some families to complete their record books in a more efficient manner. PDF project report forms are still available. See next heading.
Kansas 4-H ZBooks Information Page (CLICK HERE)
Project Record Report Forms
CLICK HERE to go to the Project Reports located on the Kansas 4-H page.
Two Types of Project Record Forms
Three Age levels
Junior 7-9 years (4-H age)
Intermediate 10-13 year (4-H age)
Senior 14-18 year (4-H age)
Forms, an instructional guide and check sheet, an evaluation rubric, and a form fillable personal page and permanent record are available, as is a free download of the current Adobe Reader DC. Please click here for more information and to be re-directed to the Kansas 4-H Page.
Here are a few things that you need to make sure that you are recording and keeping track of throughout the year.
Set project goals
Project Presentations & Communication
Project Learning Experiences
Project Exhibits and Showcase Opportunities
Project Leadership
Project Citizenship/Community Engagement
Project Finances (keep receipts) Income and Expenses
Project Finances (Project Animal Inventory/ Performance Record)
Seniors (will have to submit a resume and cover letter)
Additional Required Documents
Resources
Completed Records to the Extension Office Will Include
Personal Page (included with each project record)
Project Record(s)
Permanent Record
Coffey County "County Champion" Designation Form for 4-H Members
Coffey County 4-H Project Record Seal
Current Year Member Pin Award Application
Regional Level
Submit a Project Record Form, Cover Letter, and Resume
State Level
Submit a Project Record Form, Cover Letter, Resume and Video
Member Pin Award Application
If you are new to 4-H, or if this is your first year applying for a pin and your name is not listed, then you should fill out the Membership pin application. If you are not new to 4-H, you have received a pin in a previous year, and your name is not listed, then please contact Lauren in the Extension Office to determine your eligibility.
Member Achievement Pin Eligibility 2023 (Updated 1.10.23)
2022 Kansas 4-H Record Book Winners
---
We are proud to present the following Coffey County 4-H members who were selected to have the BEST record book in their project area at the county, area and within the entire state of Kansas. Only one member is selected as a winner in a project area on the Kansas 4-H record judging level. These 4-H members were honored at the Emerald Circle Banquet and are invited to attend National 4-H Congress in Atlanta, Georgia in the fall if they are still eligible. This is an incredible honor that not every 4-H member will get the opportunity to enjoy! Congratulations to:
Morgan Vogts, Tip Top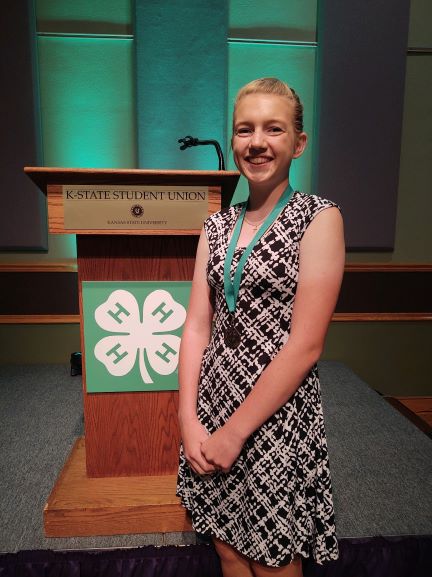 Project Area: Woodworking