Welcome to Coffey County 4-H!
4-H is a community of young people across Kansas engaged in learning leadership, citizenship, and life skills. Caring adults that support our programs are essential for youth to achieve their potential based on the guidance, respect, skills, knowledge and wisdom adults can share.
4-H is a nationwide program. Each of the four H's of the clover represent ways youth can grow and develop.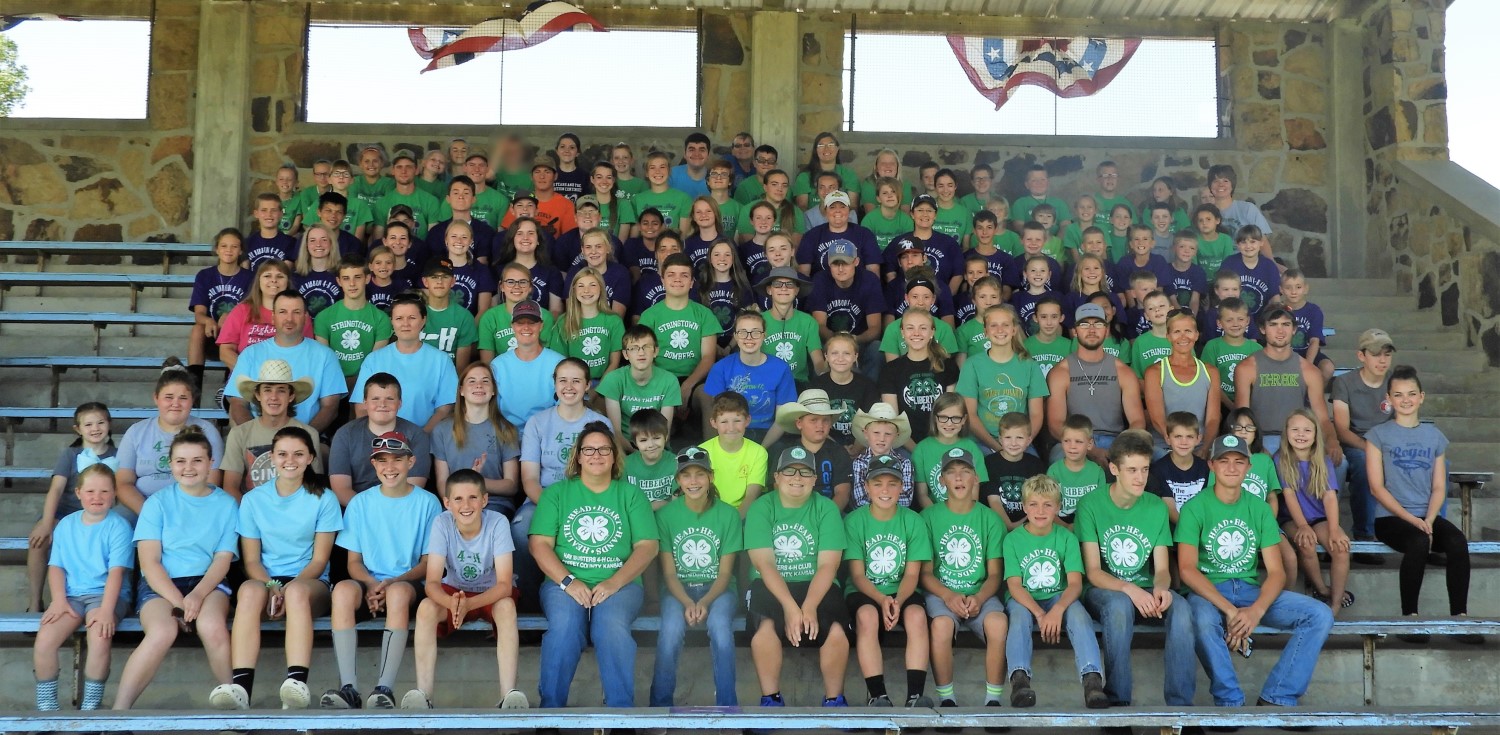 Head, critical thinking, problem solving;
Heart, self-discipline, integrity, communication;
Hands, serving others; and
Health, choosing healthy lifestyles.
In 4-H, youth have fun with a purpose!
Click here to view the K-State Research and Extension 4-H and Youth homepage.
---
Click on an icon below for more information about a specific topic.
Kansas 4-H Tip Sheet - Click Here
---
Announcements
Update- 4-H Livestock Tagging Suspended- March 25, 2020:
​ALL 4-H Livestock Project Members and Parents:
The Coffey County Emergency Public Health Officer issued an Emergency Public Health "Stay at Home" Order on this 25th day of March, 2020 to mitigate the spread of the Coronavirus (COVID_19) epidemic in Coffey County, Kansas. The order is to take effect on Thursday, March 26th at 12:01 a.m. and remain in effect "… until otherwise modified, rescinded, or supplemented by the Coffey County Public Health Officer."
For purposes of this Order, individuals are directed to "stay at home" and only leave their residence to perform certain specified "Essential Activities".
Therefore, to aid the public and our Extension 4-H community in observing this order, the Coffey County Extension Office is at this time suspending the issuance of livestock tags and tagging deadlines previously set forth of ALL species until further notice. Since there is no initial weigh-in being conducted and the "rate-of-gain" competition at the county fair canceled for this year, immediate tagging and identification of county fair animals at this time is not an "essential activity" and we will work thru it at a more opportune time.
HOWEVER, 4-Hers planning on exhibiting market beef animals at the state fair are reminded that at this time the Kansas State Fair livestock nomination deadline of May 1 HAS NOT been extended. Therefore, 4-Hers in need of Market Beef eID tags should contact the Extension Office ASAP and those will be mailed to you.
2020 Spring Livestock Tagging Dates & Forms (Tagging Suspended)
ALL Market Animals MUST be tagged by the designated species tagging day in order to show at the Coffey County County Fair. In addition we will be recording ID numbers for BREEDING animals. If your breeding animal already has an ID tag in an ear that is the number that will be used. If not you will be given a number tag that must be in the animal's ear at County Fair time. To clarify, breeding animals do not need to come to weigh-in, but their breed and ID's do have to be recorded with the Extension Office by the end of weigh in.
Market Tags will cost $4 per animal payable via cash, check or credit card prior to your animal being tagged. One market weigh-in form PER EXHIBITOR. Exhibitor weigh-in forms should have information for just that exhibitor and that exhibitors animals. No family tagging. Any tags distributed and not used MUST BE TURNED BACK INTO THE EXTENSION OFFICE and tags used paid for before entry will be accepted and complete!
All-Flex Tagging Instructions for 4-H Tagging- Click Here
BEEF (Market/2nd Year Bucket Calves)- Tags Issued From Office Beginning March 23rd. Forms Due April 8th.
SHEEP- Tags Issued From Office Beginning April 13th. Forms Due April 22nd.
GOATS- Tags Issued From Office Beginning April 13th. Forms Due April 22nd.
1st Year Bucket Calf- Tags Issued From Office Beginning April 13th. Forms Due April 22nd.
SWINE- Tags Issued Form Office Beginning April 20th. Forms Due April 29th.
COFFEY COUNTY 4-H RESPONSE TO COVID 19:
Coffey County 4-H Community - The COVID 19 or "Coronavirus" pandemic is beginning to affect us all in some way or another and our local KSU Research and Extension - Coffey County programing is no exception. In alignment with K-State Research and Extension protocol set forth by Kansas State University, ALL local and district programs, meetings, events and activities regardless of group size, CANNOT meet face-to-face between now and April 4, 2020. This includes but is not limited to, 4-H club meetings, 4-H and Extension council meetings, Program Development Committee meetings etc. This also includes project-based learning activities, shows, events and other activities directed toward 4-H youth development and other Extension audiences.
At this time the Coffey County Extension Office will remain open in accordance with Coffey County Courthouse government and Health Department guidance, and attempt to conduct business as close to usual as possible. We will be utilizing "social distancing" precautions to help ensure the health and well being of our clientele. The Courthouse hours have been altered and will close at 4pm to the public each day for the next 60 days. This alters our Extension office hours to 8a-Noon, 1p-4p each day.
We feel it is our responsibility, as a research-based organization to recognize the gravity of the situation. "Social distancing" precautions historically have aided in slowing a disease spread during pandemics. We will provide updates as the situation continues to develop and recommendations change. You may stay informed by calling the Extension Office 620-364-5313, by accessing our Extension Facebook page, or going to our Coffey Co Extension website www.coffey.ksu.edu where we will post updates and announcements. We appreciate your understanding and your efforts as individuals with help in protecting the health, wellness and safety of our communities and families.
At this time the local events and activities that cancelations will affect are: 4-H Club meetings; 4-H Regional Club Day; Beef Tagging & Weigh-in; 4-H Council / Club Leaders Meeting; ANY project meetings currently scheduled from March 16 to April 4th.
Currently we are considering different meeting delivery methods, postponements and other alternatives to try and continue business as close to normal as possible. Any ramifications for awards, event qualifications etc, on down the road due to this unforeseen circumstance will be taken into consideration. The situation is "fluid" as they say and the Extension staff will continue to monitor changes and keep you all apprised of them and provide updates on Facebook as well as our website at www.coffey.ksu.edu. in a timely manner. If you have questions feel free to contact me or Jill.
STAY WELL!!
2020 Summer Internship- Apps Due April 1st
Coffey County Extension is seeking a full-time summer intern to work June 1 to the first or second week in August. Duties include helping the office staff prepare for the County Fair, aiding the County Agents with Extension programs, basic office tasks, and working the County Fair. Applications are due April 1st to the Extension Office and are available by clicking here.
---
---