Welcome to Coffey County 4-H!
4-H is a community of young people across Kansas engaged in learning leadership, citizenship, and life skills. Caring adults that support our programs are essential for youth to achieve their potential based on the guidance, respect, skills, knowledge and wisdom adults can share.
4-H is a nationwide program. Each of the four H's of the clover represent ways youth can grow and develop.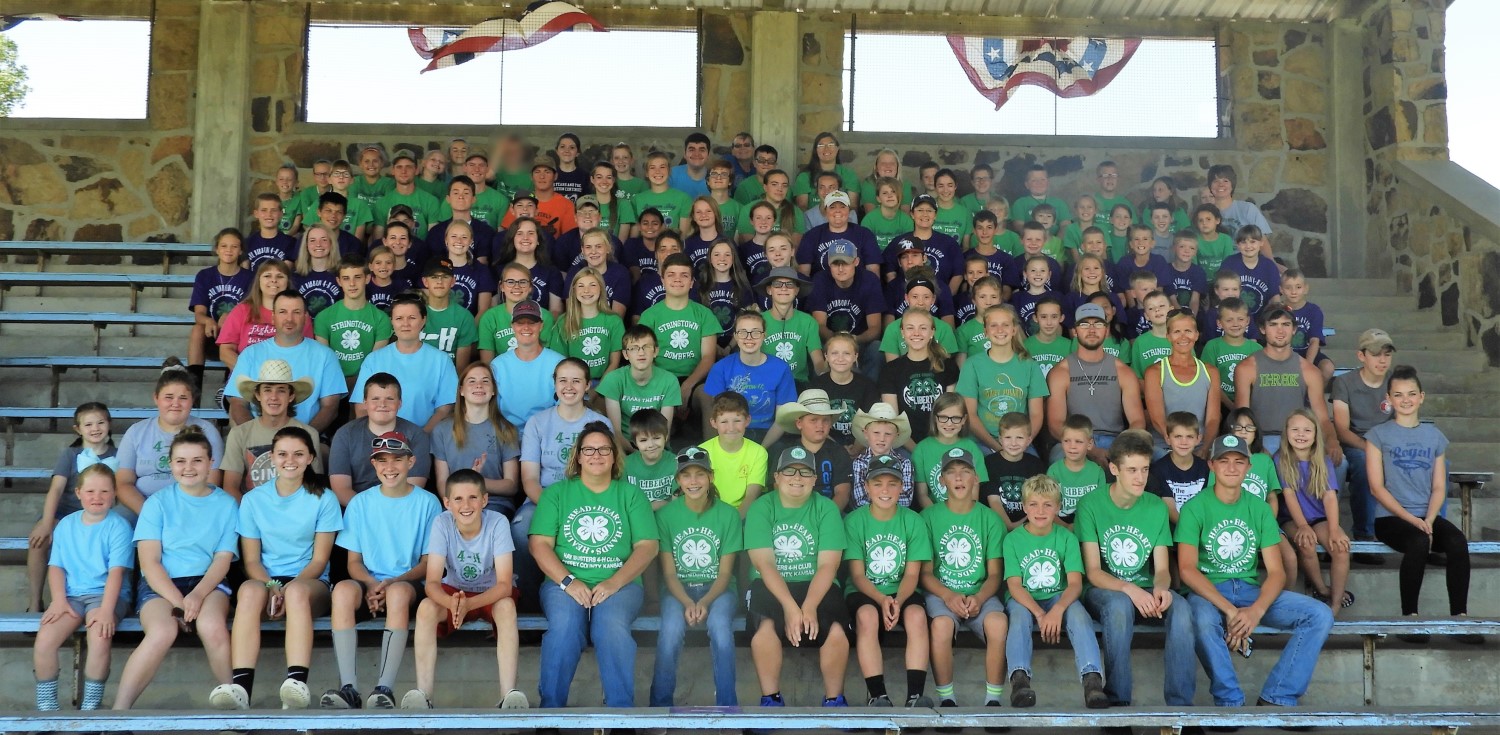 Head, critical thinking, problem solving;
Heart, self-discipline, integrity, communication;
Hands, serving others; and
Health, choosing healthy lifestyles.
In 4-H, youth have fun with a purpose!
Click here to view the K-State Research and Extension 4-H and Youth homepage.
---
Click on an icon below for more information about a specific topic.
Kansas 4-H Tip Sheet - Click Here
---
Announcements
2019-2020 4-H Recipe Book- A Digital Gift From Coffey County 4-H Council
Click on the icon below or CLICK HERE to download your copy!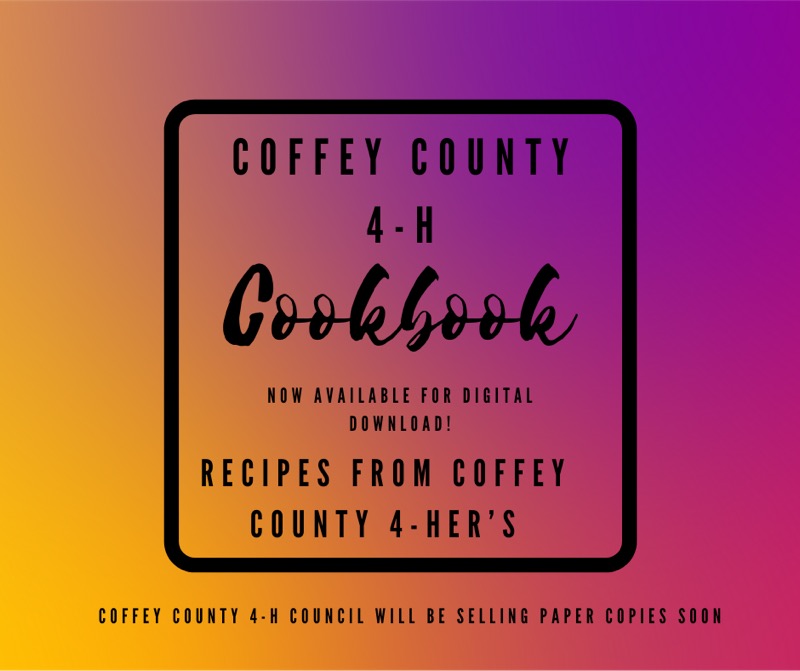 This recipe book was originally intended to be a fundraiser for Coffey County 4-H Council. In light of the current COVID-19 pandemic, 4-H Council has decided to release the digital format of the book as a gift to everyone affected. Hard-copy versions of this recipe book will be available for sale later in the year.
4-H Livestock Tagging Update:
Beginning on Monday May 18th 2020 we will begin distributing sheep, meat goat, swine and bucket calf eartags for Coffey County Fair animals. The plan is to allow for two options. First of all if you would like help in tagging your animals you can contact Darl and make arrangements to bring your trailered animals to the courthouse on designated days and he will apply tags and help get paperwork filled out. Second, if you would prefer to tag your animals yourself, email the Extension Office staff and let us know how many tags you will be needing. We will then make up a packet with tags and identification forms to fill out and place them in the Extension Office drop box at the west side entrance of the courthouse for you to pick up. All completed animal identification forms will need to be returned to the Extension Office NO LATER than June 15th.
Update: Face to Face 4-H Activities Cancelled Through July 4th
Because of this, K-State Research and Extension has extended its ban on all face-to-face extension programs, meetings and events through July 4,
2020. For the health and well-being of our 4-H families, volunteers, and professionals, all in-person 4-H events, contests and activities at the state,
regional, district, county and local levels are to be postponed, canceled or converted to non-face-to-face experiences. This applies to scheduled
events, contests and activities that are led by local 4-H volunteers as well. We did not take this decision lightly. We are doing this because the health
and well-being of our participants, employees and volunteers must be our top priority. In order to ensure quality programs for late spring/early summer, we
need to shift from preparation and planning for face-to-face activities to alternative activities. In light of this decision, the following state 4-H coordinated events are impacted: Discovery Days, 4-H Camps, Campference, Insect Spectacular, Geology Field trip, MYPI, Shooting Sports Matches, Shutterbug Photo Event, district horse shows and district dog shows. Participants who have already registered for Discovery Days will be given refunds. Many of these and other events are being revamped to provide an alternative, online option for learning. Information and invitations to those repurposed events will be coming soon.
We know this is an incredible disappointment and recognize how much everyone looks forward to these 4-H events. We will make every effort to
shift as many of these events as possible to internet-based learning and showcase opportunities. Please note that this does not include county fair season. Fairs are governed by local county fair boards, not K-State Research and Extension. Preparation for fairs will continue as much as possible. In case it becomes
necessary, we are looking at alternative methods that would enable 4-Hyouth to showcase their projects. In some cases, such as youth camps, we are heartbroken to know there isnot an adequate online replacement for making those lifelong memories.As extension professionals committed to providing positive youth development programming through 4-H, we share your sense of loss. At this time, however, our top priority is ensuring that we are doing everything in our ability to slow the spread of COVID-19. We work hardto empower every 4-H'er to be a responsible member of our society, and this is a prime opportunity for each of us to model that ideal for true leaders of the future. Our methods are changing, but our 4-H mission remains the same.
Respectfully, Wade Weber

Update- 4-H Livestock Tagging Suspended- March 25, 2020:
​ALL 4-H Livestock Project Members and Parents:
The Coffey County Emergency Public Health Officer issued an Emergency Public Health "Stay at Home" Order on this 25th day of March, 2020 to mitigate the spread of the Coronavirus (COVID_19) epidemic in Coffey County, Kansas. The order is to take effect on Thursday, March 26th at 12:01 a.m. and remain in effect "… until otherwise modified, rescinded, or supplemented by the Coffey County Public Health Officer."
For purposes of this Order, individuals are directed to "stay at home" and only leave their residence to perform certain specified "Essential Activities".
Therefore, to aid the public and our Extension 4-H community in observing this order, the Coffey County Extension Office is at this time suspending the issuance of livestock tags and tagging deadlines previously set forth of ALL species until further notice. Since there is no initial weigh-in being conducted and the "rate-of-gain" competition at the county fair canceled for this year, immediate tagging and identification of county fair animals at this time is not an "essential activity" and we will work thru it at a more opportune time.
HOWEVER, 4-Hers planning on exhibiting market beef animals at the state fair are reminded that at this time the Kansas State Fair livestock nomination deadline of May 1 HAS NOT been extended. Therefore, 4-Hers in need of Market Beef eID tags should contact the Extension Office ASAP and those will be mailed to you.
---
---