Welcome to Coffey County 4-H
---
Contact Information
Darl Henson
Agriculture & Natural Resources Agent & 4-H
Phone: (620) 364-5313
dhenson@ksu.edu
Jill Barnhardt
FCS & 4-H Agent
jbarnhardt@ksu.edu
Lauren Hull
Office Professional/Program Assistant
ljohnson15@ksu.edu
Announcements
State Fair Entries- AS OF August 16, 2021 (CLICK HERE)
4-H Enrollment Begins October 1st! Enrollment is an easy 2 step process!
Enroll/Re-Enroll at ks.4honline.com (Returning members MUST use their previous years login information- DO NOT create new accounts.)

Print, sign and return an enrollment report to the Extension Office.
2019-2020 4-H Recipe Book- A Digital Gift From Coffey County 4-H Council
Click on the icon below or CLICK HERE to download your copy!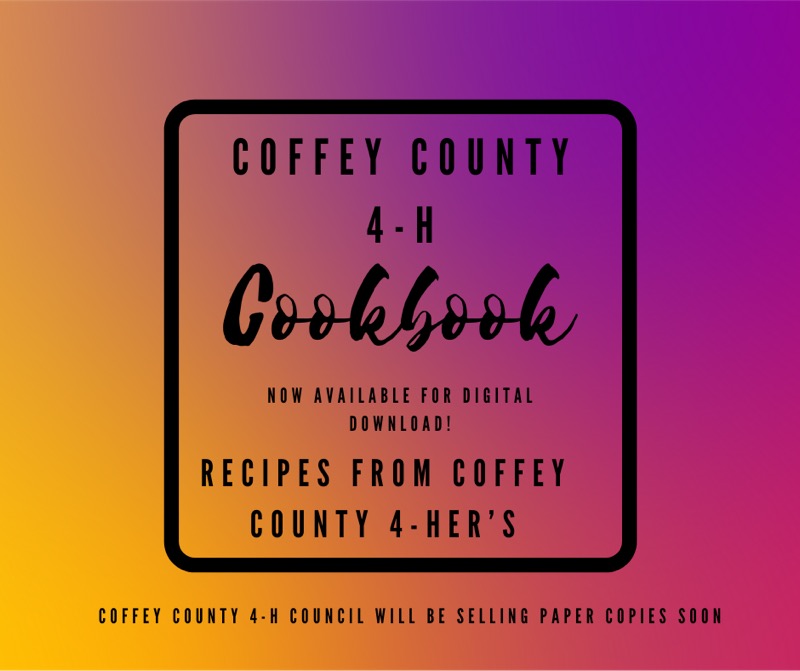 This recipe book was originally intended to be a fundraiser for Coffey County 4-H Council. In light of the current COVID-19 pandemic, 4-H Council has decided to release the digital format of the book as a gift to everyone affected. Hard-copy versions of this recipe book will be available for sale later in the year.
Make a Payment
4-H event registrations or other 4-H related items (excluding the 4-H program fee) may be paid through the "Donate" button below. Please note that this is not an actual donation, but a means to make your 4-H related payment process easier.
---
Kansas 4-H Tip Sheet - Click Here
Special 4-H Recognition
Outstanding Club
2019-2020: Tip Top
2018-2019: Smilin' Thru
Herdsmanship Award
2019-2020: Blue Ribbon
2018-2019: Smilin' Thru
2017-2018: Smilin' Thru & Liberty
Friend of 4-H
2019-2020: Landon Linsey
2018-2019: Mark & Janella Newton
---
Click on an icon below for more information about a specific topic.
---
---