Coffey County Fair
2022 Buyers from Livestock Premium Sale Bill (Click Here)
2022 Awards Ceremony Program (Click Here)
The Coffey County Fair Board meets the third Wednesday of every month at the Fair Office at Kelley Park. The meetings begin at 7:00pm. Please feel free to attend a monthly meeting if you have any questions or would like to provide any input.
Fair Dates:
July 19-23, 2023
Location:
Coffey County Fair Grounds, Kelley Park, Burlington, Kansas
Theme:
"Celebrate the Bounty of our County" (Theme Submitted by Blue Ribbon 4-H Club)
Coffey County Fair Rule Book
4-H Section
2022 State Fair Book- STEM Section
Complete Book with Open Class
Letter to 4-Hers From the Coffey County Fair Board
Click Here to read the letter.
Important Deadlines
May 1st

Add/Drop Project Deadline
June 1st

Horse ID Forms
Rabbit ID Forms
Fair T-Shirt Orders Due
Order Form (Click Here)
June 27th

Poultry Bands Reported To Extension
Poultry Bands Issued for New Birds
Poultry Pullorum Testing
June 29th- Pre Entry Deadline
All Demonstrations
All Clothing/Buymanship
All 4-H/FFA Animals
All Open Class Poultry
Club Secretary Roll Call Due
Club Campsite Assignments Due
July 13th- Pre Entry Deadline
Online Entry for all other exhibits
ALL 4-H/FFA exhibits should be pre-entered online this year!
July 18th
Entry Drop Off 8a-5p
4-H Photo- 5p
Mandatory Livestock Meeting (After Photo)
Fairgrounds Cleanup
July 19th
(All entries, with the exception of Foods, Horticulture, and Crops, MUST BE dropped off July 18th or 19th! All entries must be at the 4-H Building by NOON on Tuesday!)
4-H/FFA Fair Entries Online
Memo to 4-Her's About Fair Entry: Click Here
Entry Website: coffeycountyfair.fairentry.com
Instructions:
1) Login Using 4-H Online credentials! All 4-H Families must login this way. DO NOT create a new profile. FFA members who are not in 4-H Online are the only participants that will create a profile. Contact the Extension Office if you need help logging in!
How to login using 4-H Online-
2) Begin Making Entries- Detailed Instructions (Click Here)
Video: How to Login using 4-H Online and Start Making Entries (Click Here)
Video: How to Make Entries (Click Here)
Pre-Entry Update
Entries Received as of 07.13.22
Pre-Fair Events
Demonstrations/Poetry & Prose/FCS Judging/Photography Judging/Crops Judging

Friday, July 8, 2022, 9am
Schedule: Click Here
Remember: Judging contests are an optional requirement for your 4-H Achievement Pins!
Clothing Buymanship and Clothing Construction
Saturday, July 16, 2022, 9am
Buymanship Schedule (Click Here)
Clothing Construction Schedule (Click Here)
Horse Show
Tuesday, July 19, 2022 5pm
2022 Horse Show Patterns (Click Here)
Dog/Cat/Hand Pet Shows
Saturday, July 16, 2022 4pm
Forms
Horse ID Form- Due June 1st
Rabbit ID Form- Due May 1st
Coffey County Born Market Form- Due With Entry
Coffey County Born Breeding Form- Due with Entry
Livestock Housing Declaration Form- Due With Entry
2022 Coffey County Fair Survey (Click Here)
Cloverbud Narratives
Contests
2022 Coffey County Fair Coloring Contest
Promote 4-H Contest
4-H Seniors
Spotlight Survey- Due June 29th
Destination Designation Card Examples
Beef (Click Here)
Club Assignments
---
Livestock Pen Assignments (Click Here)
Club Camp Spot Assignments(Click Here)
Tip Top
Building Watch:
Crops BUilding


Thursday, July 21, 2022, 1p-5p
Saturday, July 23, 2022, 9a-1p

4-H Building

Friday, July 22, 2022, 1p-5p
Sunday, July 24, 2022, 1p-5p
Trash Duty: Wednesday
Blue Ribbon
Building Watch:
Crops Building

Thursday, July 21, 2022, 5p-9p
Saturday, July 23, 2022, 1p-5p
4-H Building

Thursday, July 21, 2022, 9a-1p
Friday, July 22, 2022, 5p-9p
Trash Duty: Thursday
Smilin' Thru
Building Watch:
Crops Building


Friday, July 22, 2022, 1p-5p
Sunday, July 24, 2022, 1p-4p

4-H Building

Thursday, July 21, 2022, 5p-9p
Saturday, July 23, 2022, 1p-5p
Trash Duty: Saturday
Liberty
Building Watch:
Crops Building


Thursday, July 21, 2022, 9a-1p
Friday, July 22, 2022, 5p-9p

4-H Building

Friday, July 22, 2022, 9a-1p
Saturday, July 23, 2022, 5p-9p
Trash Duty: Friday
Stringtown Bombers
Building Watch:
Crops Building

Friday, July 22, 2022, 9a-1p
Saturday, July 23, 2022, 5p-9p

4-H Building

Thursday, July 21, 2022, 1p-5p
Saturday, July 23, 2022, 9a-1p
Trash Duty: Sunday
Livestock Weigh-IN/Tagging
---
Rabbit Designations
Market Animal Tags/Breed Designation
Updated

Breeding Animal Tag/Breed Designation
Dairy Goat (Updated 05/19/2022)
2022 RESULTS
---
2022 Demonstration Day Results (Click Here)
Judging Contest Winners- Crops, Photography, FCS (CLICK HERE)
2022 Clothing Event Results (Click Here)
2022 Clothing Constructed Item Results (Click Here)
2022 Dog, Cat, Hand Pet Show Results (Click Here)
2022 Horse Show (Click Here)
2022 Meat Goat Rate of Gain (Click Here)

2022 Sheep Rate of Gain (Click Here)
2022 Beef Rate of Gain (Click Here)
2022 Swine Rate of Gain (Click Here)
2022 Results By Project Area (CLICK HERE)

2022 Results By Club (Click Here)
2022 Skillathon Results (CLICK HERE)
2022 Entomogly Contest Results (CLICK HERE)
2022 Horticulture Contest Results (CLICK HERE)
Senior Round Robin Results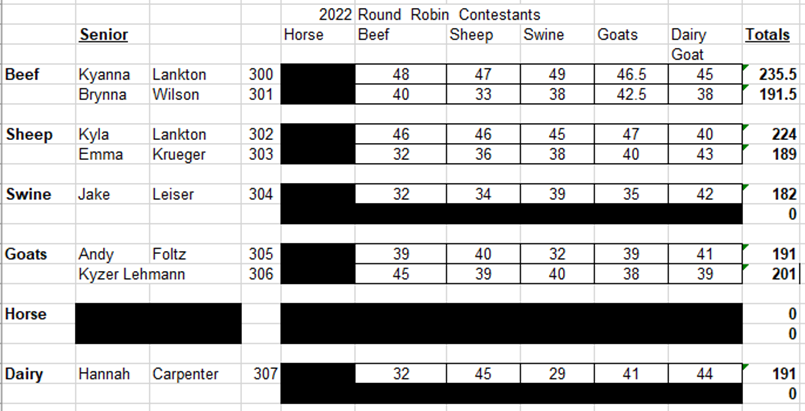 Intermediate Round Robin Results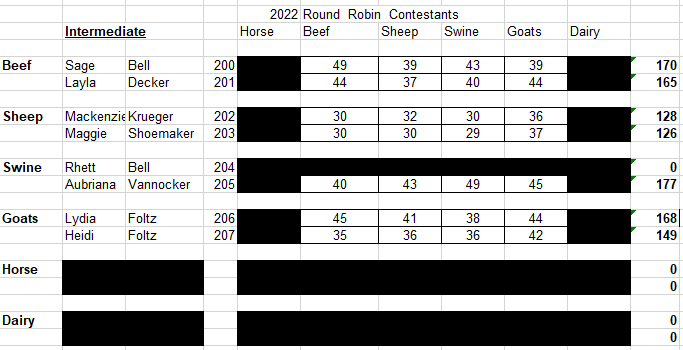 Junior Round Robin Results