4-H Youth Development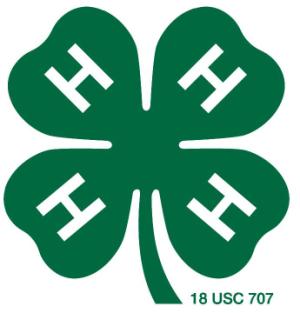 4-H is a community of young people across Kansas engaged in learning leadership, citizenship, and life skills. Caring adults that support our programs are essential for youth to achieve their potential based on the guidance, respect, skills, knowledge and wisdom adults can share.
4-H is a nationwide program. Each of the four H's of the clover represent ways youth can grow and develop.
Head, critical thinking, problem solving;
Heart, self-discipline, integrity, communication;
Hands, serving others; and
Health, choosing healthy lifestyles.
In 4-H, youth have fun with a purpose!
Click here to view the K-State Research and Extension 4-H and Youth homepage.
---
Announcements
STATE FAIR ENTRY UPDATES
Final State Fair Entry List 8.14.17- CLICK HERE

COMPLETED LIVESTOCK SALE BILLS
GRAND & RESERVE GRAND CHAMPIONS- CLICK HERE
BEEF- CLICK HERE
MEAT GOAT- CLICK HERE
SHEEP- CLICK HERE
SWINE- CLICK HERE
---
Special 4-H Recognition
Outstanding Club
2015-2016: Tip Top 4-H
Herdsmanship Award
2015-2016: Liberty 4-H
Friend of 4-H
2015-2016: Arden & Kathy Payer
---
Pork Quality Assurance (PQA)
PQA is required for all state and national youth livestock competitions. Proof of certification is often required at the time of entry. Complete your certification using the link below.