4-H Youth Development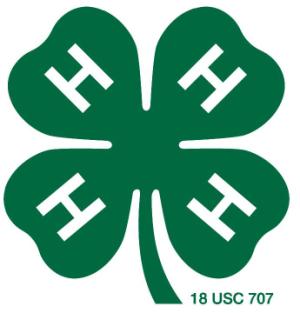 4-H is a community of young people across Kansas engaged in learning leadership, citizenship, and life skills. Caring adults that support our programs are essential for youth to achieve their potential based on the guidance, respect, skills, knowledge and wisdom adults can share.
4-H is a nationwide program. Each of the four H's of the clover represent ways youth can grow and develop.
Head, critical thinking, problem solving;
Heart, self-discipline, integrity, communication;
Hands, serving others; and
Health, choosing healthy lifestyles.
In 4-H, youth have fun with a purpose!
Click here to view the K-State Research and Extension 4-H and Youth homepage.
---
Announcements
4-H ENROLLMENT OCTOBER 2ND-DECEMBER 1ST
Enrolling/Re-enrolling is a 2 step process
1. Enroll/Re-Enroll in 4-H Online at ks.4honline.com. Those re-enrolling should use your previous years login information to access the 4-H member and volunteer profiles. Contact Lauren at ljohnson15@ksu.edu if you need help logging into your existing account.
2. After submitting your enrollment through 4-H Online, print an enrollment report to sign and turn into the Extension Office by December 1st.
Come see us in the Extension Office if you need help enrolling this year! We are happy to help! Our hours are Monday-Friday 8a-NOON, 1p-5p.
More details for enrolling in the new 4-H year are located in the "Enrollment Information" and "Volunteer Information" tabs in the left hand column of this web page (desktop) or by clicking the menu icon (smart phone).
---
Special 4-H Recognition
Outstanding Club
2015-2016: Tip Top 4-H
Herdsmanship Award
2015-2016: Liberty 4-H
Friend of 4-H
2015-2016: Arden & Kathy Payer
---
Pork Quality Assurance (PQA)
PQA is required for all state and national youth livestock competitions. Proof of certification is often required at the time of entry. Complete your certification using the link below.